Human Being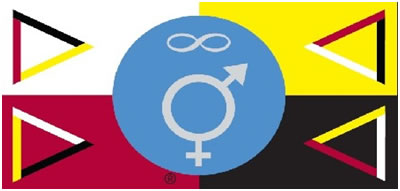 Flag
          




 
              THE PURPOSE OF THIS FLAG IS TO GO BEYOND COLOR, PREJUDICE, INHUMANITY AND INJUSTICE TO ALL HUMAN BEINGS.




                WE ARE ALL HUMAN BEINGS, WE ARE ALL CONNECTED.


          Our Soul - Spirit is either all colors, no color, or both.


     The flag has the four Human Being colors, WHITE, YELLOW, RED, and BLACK.
The triangle in each color represents our connection with other Human Beings.
 All pointing to the centre, the Circle of Life.

              The centre circle represents our Soul - Spirit, also the Circle of Life with the Symbol for Infinity
to remind us of our connection as Human Beings  
                                                           .
The man and woman symbols were put together to represent equality,
Equal… Yet Different.



WITH CHANGE THERE WILL BE EQUAL RIGHTS AND EQUAL OPPORTUNITIES.


| | |
| --- | --- |
| © Copyright David Moore 2006 | |